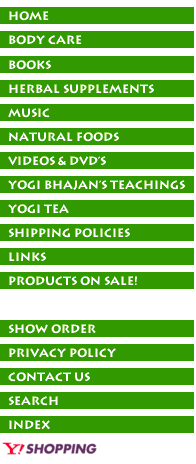 Yogi Sweet Clementine Stress Support tea is purposefully blended with Ashwagandha, an Ayurvedic adaptogenic herb used for centuries to support the body's ability to cope with stress and to help promote long term health. Lemon Balm, Lemongrass, and Orange Peel add bright citrus flavor to this caffeine-free herbal tea blend. Enjoy a deliciously intriguing cup of Yogi Sweet Clementine Stress Support tea any time of day to support your well-being!

Ingredients: Organic Ashwagandha Root, Organic Lemongrass, Organic Cinnamon Bark, Organic Lemon Balm Leaf, Organic Ginger Root, Organic Rooibos Leaf, Organic Clementine Flavor, Organic Stevia Leaf, Citric Acid, Organic Orange Flavor, Organic Orange Peel, Organic Clove Bud.



Are you having any trouble finding the
products you're looking for?

Discounts available via phone orders only.
Please call in to ask about available discounts:
Siri Ram Singh: 877-753-5351
Email: sirirams@windstream.net
If you have any questions please
don't hesitate to call or email us!