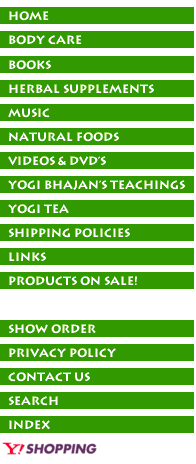 This relaxing blend is infused with pure St. John's Wort and calming essential oil of Lavender, offering a fragrant tension tamer from a stressful day.

Ingredients: Expeller Pressed Sweet Almond Oil, Expeller Pressed Safflower Oil, High Oleic, Expeller Pressed Sunflower Seed Oil, Grapeseed Oil, Expeller Pressed Apricot Kernel Oil, Expeller Pressed Avocado Oil, Lavender Essential Oil, Infusion of Green Tea Leaf and St. John's Wort Leaf & Flower and Natural Vitamin E.



Are you having any trouble finding the
products you're looking for?

Discounts available via phone orders only.
Please call in to ask about available discounts:
Siri Ram Singh: 877-753-5351
Email: sirirams@windstream.net
If you have any questions please
don't hesitate to call or email us!