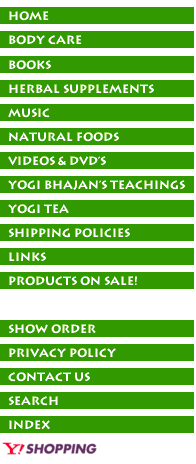 The most popular raisin, made from Thompson grapes. They are concentrated sources of numerous health-benefiting antioxidants, dietary fiber, vitamins and minerals.

Try this simple recipe for an Ayurvedic tonic to nourish the body and the mind. This immune-boosting shake is loaded with calcium and omega-3 essential fatty acids (aka brain food), helps with elimination, and tastes surprisingly good. Try it as a morning shake or anytime for an energy boost.

Soak overnight in about 1 1/2 cups water:

3 organic dried figs

6-7 organic walnuts

1 tsp organic raisins

In the morning, combine all ingredients, including the soaking water, in the blender until smooth. Adjust the water quantity to desired consistency. For variety, add 1tsp raw cacao nibs to the blender. -From 3ho.org website



Are you having any trouble finding the
products you're looking for?

Discounts available via phone orders only.
Please call in to ask about available discounts:
Siri Ram Singh: 877-753-5351
Email: sirirams@windstream.net
If you have any questions please
don't hesitate to call or email us!