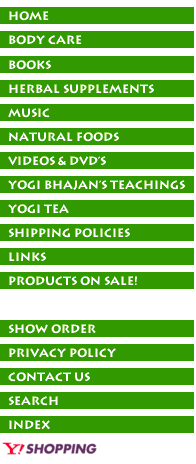 Guru Arjan(1563-1606) compiled the Siri Guru Granth Sahib, the sacred scriptures of the Sikhs. By including hymns of not only the Sikh Gurus but also saints and minstrels of different religions and castes, Guru Arjan honored all faiths. He gave the world one of the greatest examples of religious goodwill and equality of all humanity. The shabds 'Narayan,Narayan' and 'Buray Bhalay Ham Thaaray' are both soulful, soothing, meditative and uplifting, the lyrics by Guru Arjan are of the praise of God. Harjinder Singh who sings, plays keyboard, harmonium and surmandal also did a fantastic job arranging these Indian style Shabads. The whole package is complete with Sangeets vocals, and the great tabla, dholak, bamboo flute and violin.



Are you having any trouble finding the
products you're looking for?

Discounts available via phone orders only.
Please call in to ask about available discounts:
Siri Ram Singh: 877-753-5351
Email: sirirams@windstream.net
If you have any questions please
don't hesitate to call or email us!