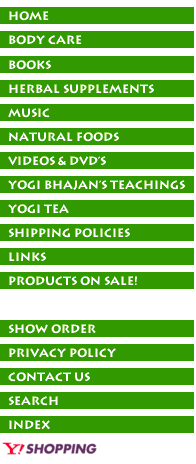 Jai Te Gung shabad is the total property of Guru Gobind Singh, given to us as a gift. And if you find a person very feeble, who has no grit, no courage, no self esteem... I mean, take all the things from alphabetically minus... and you do the job of this shabad, the person will become totally tempered and can cut through any negativity.

The mantra "Jai Te Gang." 'Te Ang." "Te" stands for "tej," "taal," "life." And "ang" means the "self," "body." My arm is the "ang." "Ang Sang Wahe Guru." And "te gang," there is the double "ang-aa" in it. That means you are part of my infinite light, power. And that's what we call it: "Te gang."


Are you having any trouble finding the
products you're looking for?

Discounts available via phone orders only.
Please call in to ask about available discounts:
Siri Ram Singh: 877-753-5351
Email: sirirams@windstream.net
If you have any questions please
don't hesitate to call or email us!