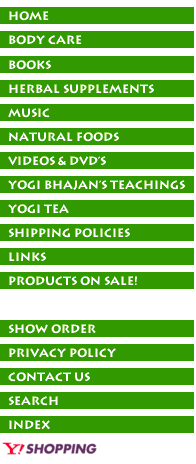 Baba Siri Chand Chants from Brahm Buta by Amadeen Singh has three tracks. There is a single recitation of the Siri Matra, the teachings Baba Siri Chand, great protector and master yogi, gave to the different yoga schools who came to him for guidance. For longer meditation sessions, you can connect with the energy of Baba Siri Chand through Amandeep Singh's track of eleven repetitions of the Siri Matra. There is also a lovely eleven minute recitation of Ong Sohung, the mantra given by Baba Siri Chand to Baba Gurditta.

Amandeep Singh's album Baba Siri Chand Chants from Brahm Buta is a beautiful offering, and will definitely create a prayerful and meditative mood for listeners.



Are you having any trouble finding the
products you're looking for?

Discounts available via phone orders only.
Please call in to ask about available discounts:
Siri Ram Singh: 877-753-5351
Email: sirirams@windstream.net
If you have any questions please
don't hesitate to call or email us!