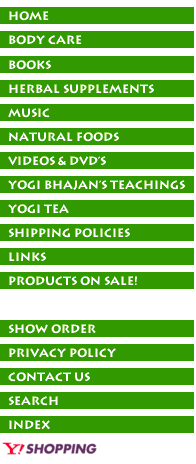 Recipes & Tales from a Yogi's Kitchen by Siri Ved Kaur

In this completely rewritten and expanded second edition of From Vegetables with Love, you will find over 300 mouthwatering recipes and a wealth of information about the yogic approach to food and diet, including the healing properties of natural foods and herbs, helpful "yogi kitchen tips," and stories from Siri Ved's years serving as Yogi Bhajan's personal chef.

Siri Ved Kaur Khalsa was one of the early students of Yogi Bhajan and served as his personal cook in the 1970s. It was in his kitchen that her natural aptitude for preparing healing foods was nurtured and first blossomed. He loved cooking too, and would often show her how to create amazing curries, paraanthas, and other foods with his unique yogic flair and ayurvedic wisdom. She learned by his side in the kitchen and at his feet as his student, and then shared her knowledge with others through teaching workshops and cooking classes, cooking columns, and her two cookbooks, Conscious Cookery (1979) and From Vegetables with Love (1989). From 2001 to 2007 she ran Yogi Eats, a vegetarian catering company in Los Angeles with a devoted following of yogis, celebrities, and other lovers of delicious, healing, natural foods.



Are you having any trouble finding the
products you're looking for?

Discounts available via phone orders only.
Please call in to ask about available discounts:
Siri Ram Singh: 877-753-5351
Email: sirirams@windstream.net
If you have any questions please
don't hesitate to call or email us!