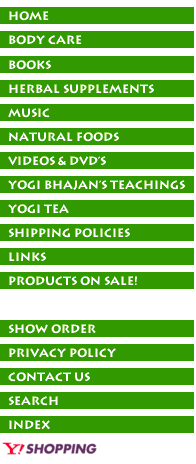 Sorry! Out of print

Enrich your Life through Kundalini Yoga and Meditation As Taught by Yogi Bhajan, Ph.D

A practical way to increase your wealth, health, and happiness through the Kundalini Yoga practice of breath, mantra, meditation, postures, affirmations, and shabads. Anyone can benefit from this book: people who have never done yoga and people who teach yoga; people who are financially challenged and people who make millions of dollars each year. KRI approved. Over 140 illustrations. Paperback - 128 Pages



Are you having any trouble finding the
products you're looking for?

Discounts available via phone orders only.
Please call in to ask about available discounts:
Siri Ram Singh: 877-753-5351
Email: sirirams@windstream.net
If you have any questions please
don't hesitate to call or email us!