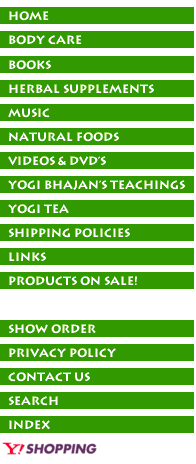 Compiled and illustrated by Harijot Kaur Khalsa with additional commentary by Gurucharan Singh Khalsa, this manual has been prepared as a supplement and extension to Sadhana Guidelines in which Yogi Bhajan, who brought the science of Kundalini Yoga to the West, explains yoga, meditation, and Kundalini. KRI approved. 70 Pages. spiralbound.


YOGA SETS:
. Adjusting the Centers of Interconnection and Intercommunication
. Activate the Navel to Activate Youth
. Building Yourself to Act, Not React
. Balance the Body and Spine
. Balancing the Three Psyches
. Eliminate Gastric Troubles
. Exercising the Central Vagus Nerve
. Exercise to Create a Disease-free Body
. Exercises for the Heart Center
. For the Third Chakra and Glandular System
. Freeing your Energy to Defeat Depression
. Getting Rid of Faults in the Spine
. Glandular System
. Getting the Body out of Distress
. Strengthening the Immune System for Women
. Hemisphere Adjustment and Subconscious Memory
. Natural Adjustment
. Set to Experience God
. Reaching to Your Mental Richness and Spiritual Strength
. Renew Your Nervous System and Build Stamina
. Strengthening the Central Nervous System

MEDITATIONS:
. Achieve an Experience of God
. Become Calm
. Become Intuitive
. Boost Your Immune System
. Conquer Inner Age and Burn it Out
. Creative Meditation of the Sublime Self
. Correct the Five Tattwas
. Excel and Build Your Healing Force
. For Strength and Stamina
. For the Tattwas, Pranic Rib Cage and Nervous System
. For Wealth and Intuitive Opportunity
. Hast Kryia
. Key to Unlock the Unlimited, Infinite Power in You
. Magnificent Mantra
. Purifying the Shushmna, The Central Nerve Channel
. Releasing Childhood Anger
. Raa Maa Daa Saa Saa Say So Hung
. Solve Communication Problems
. Stimulate Your Chakra System and Feel Wonderful
. Surrounding Yourself With Protection
. 33 Minutes to Eliminate Stress




Are you having any trouble finding the
products you're looking for?

Discounts available via phone orders only.
Please call in to ask about available discounts:
Siri Ram Singh: 877-753-5351
Email: sirirams@windstream.net
If you have any questions please
don't hesitate to call or email us!