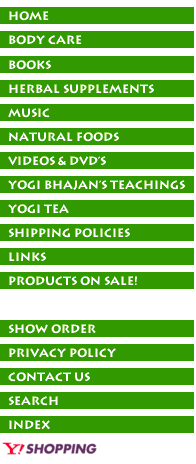 This Is A Book Of Timeless Wisdom transmitted by one of the great teachers of the age. It has the power to make people happy in moments of sadness and lift their spirits in times of depression. It is a powerful tool to clean the subconscious mind and to replace negative thought patterns with positive ones. Its inner secret is the power of the spoken word.

The Power Of The Spoken Word is the most wonderful gift given to human beings. Through it, relationships are made and broken, knowledge is transmitted, and conscious is changed. When you speak, the sound and rhythm of your words express your state of consciousness. When you repeat out loud the words of enlightened human beings, you enlighten your own consciousness- just by repeating them!

The Teachings Of Yogi Bhajan is a practical demonstration of the power of the spoken word to teach and enlighten. Read his words on Love, Happiness, God, Mind, and Relationships- your view of the universe will never be the same. Read 9 to 11 pages aloud – and experience your inner transformation.

We have this book in Spanish too. Call us if you are interested on it.

Tenemos este libro en su versión en Español. Llamanos si estas interesado



Are you having any trouble finding the
products you're looking for?

Discounts available via phone orders only.
Please call in to ask about available discounts:
Siri Ram Singh: 877-753-5351
Email: sirirams@windstream.net
If you have any questions please
don't hesitate to call or email us!