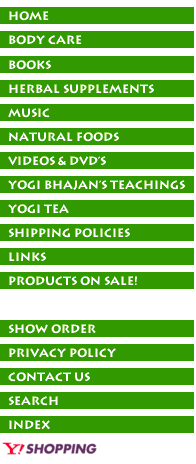 The Master's Touch
On Being a Sacred Teacher for the New Age
By Yogi Bhajan. A compilation of Teachings by Yogi Bhajan given during Master's Touch courses in Espanola and Assisi, Italy. The 22 classes given in Espanola cover topics such as "What is Happiness", "Self Reverence", "The Teacher and Student", "Projecting as a Teacher", "The Art of Communication", "The Caliber of a Teacher". The 11 classes of Assisi cover topics such as: "What is Your Reality?", "The Power of the Mind", "Give God a Change" and "Life is a Gift". All these classes will give you a deep and profound understanding of the unique inside of the human character and the Path of The Teacher. The book also includes Yoga Exercises and Meditations. KRI Approved. Soft Cover. 340 pages.



Are you having any trouble finding the
products you're looking for?

Discounts available via phone orders only.
Please call in to ask about available discounts:
Siri Ram Singh: 877-753-5351
Email: sirirams@windstream.net
If you have any questions please
don't hesitate to call or email us!