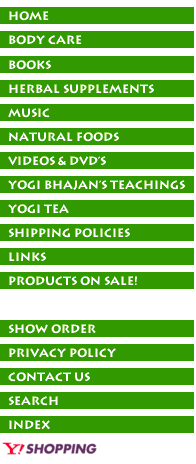 The Mind: Its Projections and Multiple Facets

By Yogi Bhajan, PhD, and Gurucharan PhD. Yogi Bhajan describes in this book how we can know and understand the Mind so it becomes our ally and not our problem. The Mind is divided into 3 Functional Minds: Neutral, Negative and Positive ~ 9 Aspects; The Defender, The Manager, The Preserver, the Artist, the Producer, the Missionary, the Strategist, The Leader and The Teacher and 27 Projections (there is a Meditations given for each Projection) containing a total of 81 Facets. This book is for everyone that would like to get a deeper understanding of his or her Mind and therefore lead a more happy and fuller life. KRI approved. Softcover. 205 pages.



Are you having any trouble finding the
products you're looking for?

Discounts available via phone orders only.
Please call in to ask about available discounts:
Siri Ram Singh: 877-753-5351
Email: sirirams@windstream.net
If you have any questions please
don't hesitate to call or email us!