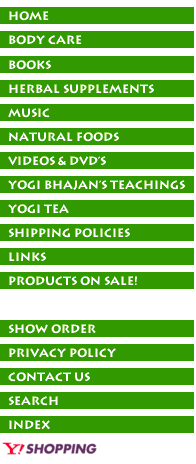 Includes Chapters on Numerlogy, Chakra's, Kriyas and Meditations, Breath, Mantra, Mudra's, Asanas and Bhandas. This book is made to suit your needs by using Numerology based on your numbers revealing your strengths and weaknesses.



Are you having any trouble finding the
products you're looking for?

Discounts available via phone orders only.
Please call in to ask about available discounts:
Siri Ram Singh: 877-753-5351
Email: sirirams@windstream.net
If you have any questions please
don't hesitate to call or email us!