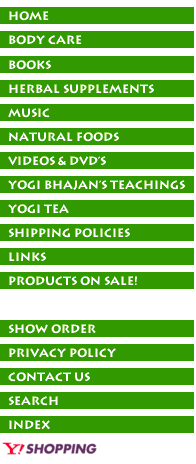 Contents

8 note from the editor
10 what's new
News from our global community
12 expanding the house of the teacher
by Tarn Taran Kaur
14 4 people in rome reach 4000
16 Nordic Light
17 3HO brings light to Israel
18 expect the unexpected in Moscow
Hari Har Kaur tells how, despite impossible odds, a Kundalini Yoga center is established in the heart of Moscow
19 strong as steel, steady as stone
Hari Nam Singh spreads the message of the Tenth Master in South America
20 the green painted dogs
Adarsh Singh tells the story of two German house-husbands who spread Kundalini Yoga throughout China and Europe
21 answering the call in China
In just a few months, Angad Kaur experiences that Kundalini Yoga is fast-growing in Shanghai, China
Prosperity Paths The Art of Giving Back
23 we are one
Darshan Kaur explores the value of living in a spiritual community
24 2006 prosperity meditation of the year
25 become a giver
Excerpts from a lecture given by Yogi Bhajan on Sept 4, 2001, in Espanola, New Mexico
27 the unseen eye
Excerpts from a lecture by Yogi Bhajan on May 11, 1990, in Acapulco, Mexico
29 say goodbye to depression and addiction
Dr. Siri Atma Singh teaches how a balanced diet and Kundalini Yoga can bring relief and personal fulfillment
30 kundalini yoga for the heart
32 kundalini yoga for relaxation
33 one in the spirit
Shakti Parwha Kaur conveys how Kundalini Yoga provides an avenue to unite as one human family
35 the power of women's camp
Stephanie Andrews tells how Women's Camp taught her she could attract anything, even a new home
36 a healthy, happy, and holy organization
3HO Foundation Staff and Contact Information 38 east meets west
Jagat Guru Singh unites with students from Indonesia, Singapore, Thailand, Australia, and India at the Malaysia Sikh Youth Camp
39 the blessings of langar
Siri Ved Kaur reveals the first dish Yogi Bhajan taught her when she served as his personal cook
40 glossary




Are you having any trouble finding the
products you're looking for?

Discounts available via phone orders only.
Please call in to ask about available discounts:
Siri Ram Singh: 877-753-5351
Email: sirirams@windstream.net
If you have any questions please
don't hesitate to call or email us!