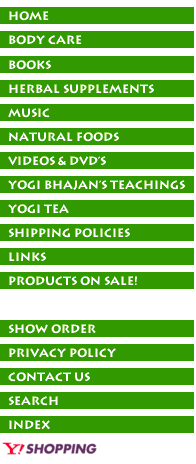 Contents

THE ART OF CLEANSING 6
General Cleansing Wisdom By Kartar Singh Khalsa, D.O.M.
CLEANSING FOODS AND RECIPES 9
Building New Cells with Life-Giving Foods
FOOD: THE HUMAN MEDICINE 10
Excerpts by Yogi Bhajan
DETOXING THROUGH MASSAGE 12
A Massage Protocol taught by Yogi Bhajan By Gurusahay Singh Khalsa, D.C.
Healing on a Cellular Level 14
Simple Things to do in your Everyday Life By Dr. Linda Lancaster
FREEDOM FROM ADDICTIVE BEHAVIORS 15
The SuperHealth Program Designed by the Master By Mukta Kaur Khalsa
THE WINDOW OF THE MIND 17
Excerpts By Yogi Bhajan
KUNDALINI YOGA To Relieve Inner Anger 19
KUNDALINI YOGA Let the Liver Live 22
A DEEP CLEANSING, HEALING EXPERIENCE 24
At the Kundalini Yoga Teacher Training Immersion Course By Mukanday Moore
2009 CALENDAR OF EVENTS 26
REALIZATIONS 33
Finding Clarity at the Miri Piri Academy By Alejandra Satkirn Kaur Yanez
YOUR PATH TO PROSPERITY 34
Prayer of Surrender JOURNEY TO THE INFINITE 35
In Memoriam: Dyal Kaur, Devoted Teacher, Beloved Wife By Gyanwant Singh
2009 NUMEROLOGY FORECAST 36
By Nam Hari Kaur Khalsa
Drink to Your Health 37
By Indra Kaur Khalsa
ARTSBRIDGE 38
A Quest for Understanding and Co-Existence By Sat Ardas Kaur Trejo
PLAYING WITH YOGA 39
How to Help Children Love Yoga By Karan Khalsa
THE DAWNING OF THE AGE OF AQUARIUS 40
By Guruka Singh Khalsa and Shakti Parwha Kaur Khalsa
EXCERPTS FROM A NEW BOOK 42
About a Natural, Spiritual Way of Life By Shakti Parwha Kaur Khalsa
MAY THE LONG TIME SUN SHINE UPON YOU 43
Back Where it all Began By Willem Wittstamm



Are you having any trouble finding the
products you're looking for?

Discounts available via phone orders only.
Please call in to ask about available discounts:
Siri Ram Singh: 877-753-5351
Email: sirirams@windstream.net
If you have any questions please
don't hesitate to call or email us!