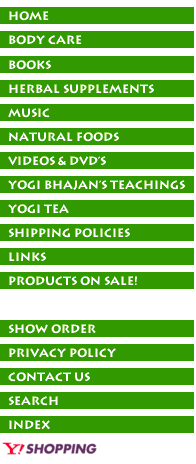 An Aquarian Path to Abundance

Want to know the secret of abundance? Be You.

Yogi Bhajan, the Master of Kundalini Yoga, had a unique perspective on how to achieve success. Itís all within you; in fact, there is only you. Here are the three keys to Success and the Spirit:

One: Know who you are

Two: Allow everything to come to you

Three: Give it away

With more than 40 kriyas and meditations, Success and the Spirit gives you the practical techniques you need to become more peaceful, more bountiful, more joyous and more giving. Be you..and more!



Are you having any trouble finding the
products you're looking for?

Discounts available via phone orders only.
Please call in to ask about available discounts:
Siri Ram Singh: 877-753-5351
Email: sirirams@windstream.net
If you have any questions please
don't hesitate to call or email us!