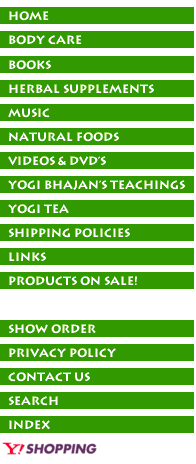 The Aquarian Teacher Authentic Relationships 4 DVD Set

Lectures include:

Relationships and the Art of Relay Love Is the Absolute Power of Self-Totality Principles for Living: The Law of Polarity and Intuition Love: Active, Reactive and Ultimate Let Your Identity Come from Your Divinity The life of a Teacher: Flexibility, Humility and Compassion

Each lecture includes a meditation led by the Master, Yogi Bhajan. This particular series includes a powerful practice using the Shabd Guru, called the 'Secret of Gurmat', and profoundly affects the psyche and the soul to heal the wounds of love.

Yogi Bhajan, Ph.D., Master of Kundalini Yoga



Are you having any trouble finding the
products you're looking for?

Discounts available via phone orders only.
Please call in to ask about available discounts:
Siri Ram Singh: 877-753-5351
Email: sirirams@windstream.net
If you have any questions please
don't hesitate to call or email us!