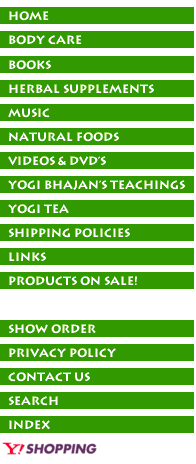 The Aquarian Teacher: Mind and Meditation - 4 DVD Set

Lectures include:

Break the Mindís Hypnotic Trance Awaken Your Dormant Human Consciousness Being Human Is Being Intuitive The Science of Shuniya Be Happy, Be Neutral Stop Your Mental Games Develop Your Mental Strength

Each lecture includes a meditation led by the Master, Yogi Bhajan. This particular series has a profound meditation called Parbatiís Kriya. With the guidance of Yogi Bhajan, you will reach a profound state of shuniya and have an opportunity to experience the blue pearl at the tip of the nose, written of in the Vedas.

Yogi Bhajan, Ph.D., Master of Kundalini Yoga



Are you having any trouble finding the
products you're looking for?

Discounts available via phone orders only.
Please call in to ask about available discounts:
Siri Ram Singh: 877-753-5351
Email: sirirams@windstream.net
If you have any questions please
don't hesitate to call or email us!