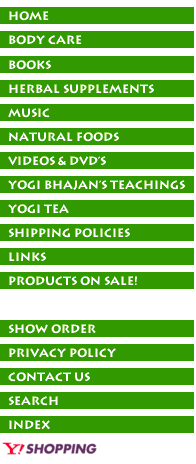 On February 5, 1992, Yogi Bhajan gave us this Mantra for the Aquarian Age to call on our inner virtues, so that we can act with integrity and clarity as teachers, healers and leaders and withstand the pressure of the times. In this meditation he calls us to our highest and noblest reality-to be human.

This 1,000-day meditation begins February 14, 2009 and ends November 10, 2011. Our practice will be worldwide and you can join in at any time, adding to the global psyche, projection and prayer: that we may enter the Aquarian Age joyfully-awake and aware.

DVD includes:

* 11-Minute Practice * 31-Minute Practice * Introduction to the Meditation by Yogi Bhajan * Yogi Bhajan Lecture



Running Time: 1 hour 28 minutes



Are you having any trouble finding the
products you're looking for?

Discounts available via phone orders only.
Please call in to ask about available discounts:
Siri Ram Singh: 877-753-5351
Email: sirirams@windstream.net
If you have any questions please
don't hesitate to call or email us!