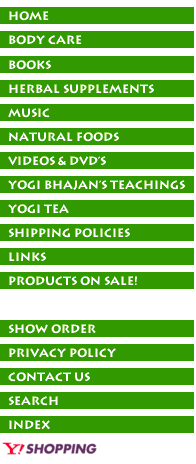 Helps Create Healthy Conditions for the heart. Promotes Rejuvenation of the body and mental clarity, physical strength, endurance and longevity of the tissues. Especially good for people who smoke and drink or who have recently quit smoking and drinking. Do not take on an empty stomach. No more than 4 capsules daily. Best if taken in the morning.

Ingredients: Turmeric Root, Cinnamon Bark, Clove Oil and Eucalyptus Oil.

Primary use: Cardiovascular, restores energy.
Secondary use: Anti-cholesterol, blood purifier, toxin remover, good for nervous system



Are you having any trouble finding the
products you're looking for?

Discounts available via phone orders only.
Please call in to ask about available discounts:
Siri Ram Singh: 877-753-5351
Email: sirirams@windstream.net
If you have any questions please
don't hesitate to call or email us!