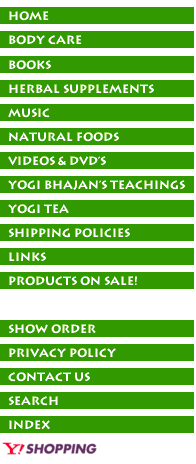 We've formulated this new tea to support the growing desire to renew a youthful energy and spirit. Bursting with flavor and fragrances, Berry Anti-Oxidant combines nature's most powerful antioxidants-acai, goji and coffee berries-with elderberry and jiao gu lan to help energize and combat fatigue.

Ingredients: Organic Rooibos Leaf, Organic Hibiscus Flower, Jiao Gu Lan, Natural Boysenberry Flavor, Organic Gotu Kola, Organic Siberian Ginseng (Eleutherococcus Senticosus), Acai Berry, Organic Blueberry Flavor, Goji Berry, Coffee Berry, Organic Raspberry Flavor, Organic Elderberry, Stevia Leaf.

Caffeine Free.



Are you having any trouble finding the
products you're looking for?

Discounts available via phone orders only.
Please call in to ask about available discounts:
Siri Ram Singh: 877-753-5351
Email: sirirams@windstream.net
If you have any questions please
don't hesitate to call or email us!