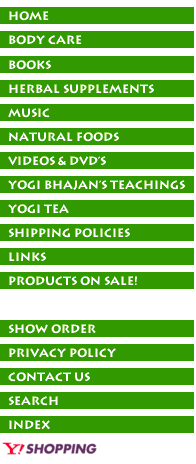 Compiled and Illustrated by: Hari Jot Kaur Khalsa.

35 unpublished Kundalini Yoga Kriyas and Mediatations, including, Building Strength and Vigor, Expanding your Inner Self, Refreshing the Nervous System, To become Strong as Steel, Inspiring words of wisdom from The Master, Yogi Bhajan. Spiral Bound, 80 pages.


"When I call on my Infinity, I can come through anything. Then I shall never be handicapped. That is the rule of life. That is how we shall enter the Age of Aquarius." -Yogi Bhajan


YOGA SETS:
. A Basic Set
. A Very Subtle Exercise
. Adjusting the Navel
. Balancing the Depository System
. Building Strength and Vigor
. Become Strong as Steel
. Connect Physical and Heavenly Reality
. Create Muscular Balance
. Correct Nerve Shallowness
. Creating Magnetic Fields
. Experiencing the Pranic and Physical Bodies
. Eliminate Gastric and Heart Problems
. Folding and Unfolding of the Energy
. Kriya for Achieving Comfortable Happy Sleep
. Move the Glandular System
. Refreshing the Nervous System
. Working on the Meridians
. Ribcage, Lungs, and Lymphatic System
. Working the Command Post Area

MEDITATIONS:
. Mantra to Open Up Blockages in Your Life
. Mudra to Open Up Blockages in Communication
. Knowing What to Do
. Sahaj Yoga
. Mantra to Make the Blind See
. Balancing the Projection With Intention
. Sa-Ta-Na-Ma 2nd Phase
. Panj Graani Kriya
. Prosperity, Fulfilment, Success
. Pranic Meditation for the Heart Center
. Working on the Third Chakra
. Working on the Fourth, Fifth, and sixth Chackras . The Magic Mantra
. Meditation With The Magic Mantra
. Using the Magic Mantra as a Gudtkaa
. Gudktaa Kriya
. Maha Gyan Kriya




Are you having any trouble finding the
products you're looking for?

Discounts available via phone orders only.
Please call in to ask about available discounts:
Siri Ram Singh: 877-753-5351
Email: sirirams@windstream.net
If you have any questions please
don't hesitate to call or email us!