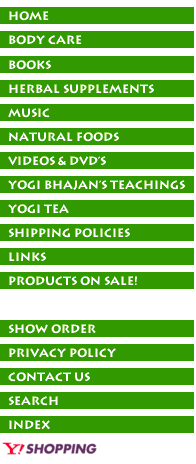 We've created this spirited blend for those of us who want to take a moment to enjoy life and just feel alive. We pair intensely rich cocoa with invigoratingly spicy cayenne and then add a hint of exotic cardamom and zesty ginger. Each cup is certain to revive the spirit and give the body refreshing energy.

Ingredients: Organic Licorice Root, Organic Cocoa Shells, Orange Peel, Organic Ginger Root, Organic Fennel Seed, Organic Anise Seed, Organic Cinnamon Bark, Natural Tangerine Flavor, Natural Orange Flavor, Organic Cardamom Seed, Organic Clove Bud, Organic Cayenne, Organic Black Pepper.

Caffeine Free



Are you having any trouble finding the
products you're looking for?

Discounts available via phone orders only.
Please call in to ask about available discounts:
Siri Ram Singh: 877-753-5351
Email: sirirams@windstream.net
If you have any questions please
don't hesitate to call or email us!