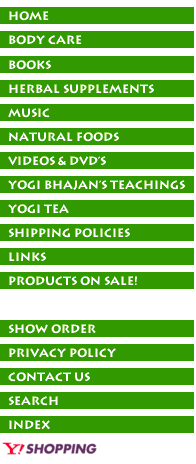 Snatam & Prabhu Nam Kaur



On this gentle, deeply moving album, the intimate, musical conversation between mother and daughter wraps you in a soothing blanket of sound.

Five classical kirtan tracks feature the rich vocal interplay between Prabhu Nam Kaur and her daughter, Snatam Kaur. Accompanied by layers of tabla, harmonium, viola, bansuri, keyboards, guitar and bass guitar.

These devotional hymns are from the Sikh tradition of Gurbani Kirtan. The words are direct transmissions from the Sound Current, recited by Amar Das, the bards Satte and Balwand, and Guru Arjan, who lived in 16th century India. Anyone who sings or listens to these words with meditative mind and heart will be transported into the Sound Current from which the words have come.

Samples and Track List:

1. Soi Sunandarhee [11:15]
2. Lakh Khushiaa [16:00]
3. Dhan Ram Das Gur [11:46]
4. Maaee Gur Charanee [6:15]
5. Sat Gur Hoe Dayaal [13:10]



Are you having any trouble finding the
products you're looking for?

Discounts available via phone orders only.
Please call in to ask about available discounts:
Siri Ram Singh: 877-753-5351
Email: sirirams@windstream.net
If you have any questions please
don't hesitate to call or email us!