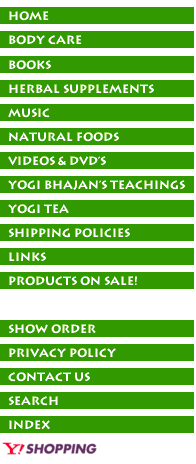 Hari Bhajan Kaur, meaning Godís Song, is an inspiring and heart-centered singer, songwriter, musician, teacher and healer. Her spiritual journey has led her to recording a series of spiritual recordings, with a healing and uplifting effect.

Hari Bhajanís music has been greatly inspired by eastern spiritual practices, lifestyle and profound personal experiences. Her songs have been embraced around the world by people of all faiths, for meditation, healing, celebration and prayer.

Her music is filled with courage, faith, beauty & joy, compassion, prayer and spiritual strength. These qualities combined with her angelic and healing voice, will touch your heart and lift your spirit.


Are you having any trouble finding the
products you're looking for?

Discounts available via phone orders only.
Please call in to ask about available discounts:
Siri Ram Singh: 877-753-5351
Email: sirirams@windstream.net
If you have any questions please
don't hesitate to call or email us!