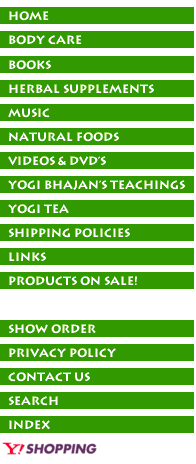 Sat Kartar Kaur Khalsa's offerings of music synthesize Eastern and Western influences, but are centered in her life study and practice of Sikh Kirtan and Kundalini and Naad Yoga (the yoga to access the inner Sound). Her unique vocal style ranges from the ethereal mystic space created in her Indian classical raga recordings, to groove-driven, gutsy interpretations of chants, hymns, songs, and stories. Find more information on www.satkartarmusic.com.

Sat Kartar has performed, taught, and facilitated sacred music experiences in India, Canada, Spain, Mexico, Australia, and the U.S. for over 30 years in a wide variety of venues, including clubs, art openings, yoga centers, churches, temples, conferences, weddings, and parties.

Varied percussion, bass, tamboura,and keyboards are accompaniment to her sound, and she has evolved a unusual modal style of guitar playing suited to ragas, chanting, and other spirited genres of sound.


Are you having any trouble finding the
products you're looking for?

Discounts available via phone orders only.
Please call in to ask about available discounts:
Siri Ram Singh: 877-753-5351
Email: sirirams@windstream.net
If you have any questions please
don't hesitate to call or email us!