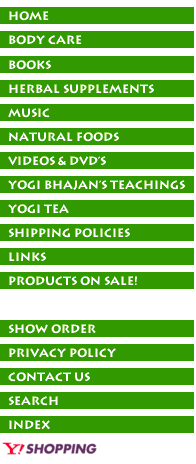 This life creating, energizing formula has the capacity to renew our cells and provide youthful vigor. it improves sexual vitality. The sexual energy this blend provides can also be directed inwards for regeneration.

Ingredients: Betel Nut, Cloves, Cardamom, Lecithin Granules, Vitamin B-Complex, Ascorbic Acid.



Are you having any trouble finding the
products you're looking for?

Discounts available via phone orders only.
Please call in to ask about available discounts:
Siri Ram Singh: 877-753-5351
Email: sirirams@windstream.net
If you have any questions please
don't hesitate to call or email us!