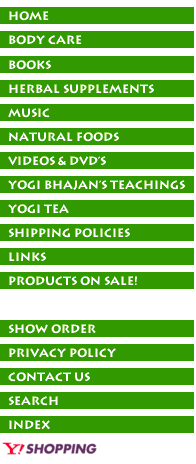 Tarn Taran Singh has been a practitioner of Kundalini Yoga and student of Yogi Bhajan for over 30 years. He is a much sought after yoga teacher in Europe and America, using his natural wit and years of experience to make teachings of Kundalini Yoga practical and accessible to all. He started the first KY teacher training program in Germany over 25 years ago and is currently KRI Coordinator of Training in Europe. He was one of the original founders of the Yogi Tea Company, which continues to be his "day job". He has always incorporated mantras and music in his classes and recently begun to record these in order to share them with a broader audience.

More of Tarn Taran Singh's story in his own words: Tarn Taran. "One who swims (across the Ocean of Life) and inspires other to swim. Yogi Bhajan gave me that name more than thirty years ago, just before he sent my wife and I over the Atlantic Ocean to teach Kundalini Yoga in Europe. We landed in Amsterdam in 1972, newly married, very pregnant, with little money and after just 6 months of ashram life."


Are you having any trouble finding the
products you're looking for?

Discounts available via phone orders only.
Please call in to ask about available discounts:
Siri Ram Singh: 877-753-5351
Email: sirirams@windstream.net
If you have any questions please
don't hesitate to call or email us!